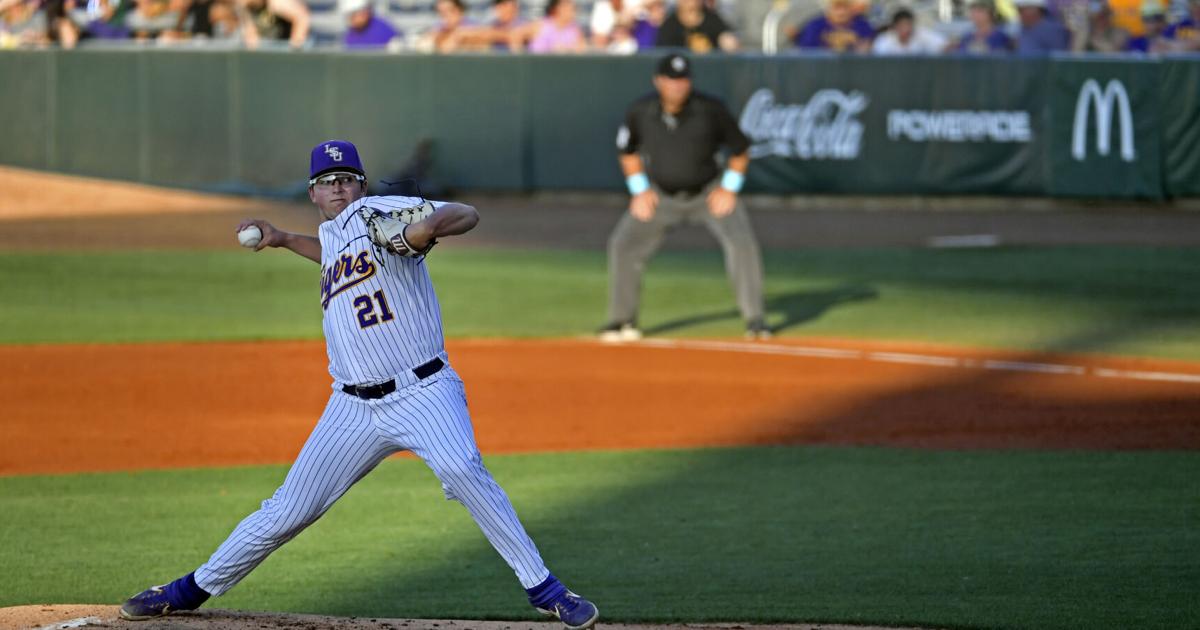 Nicholls State didn't get its first hit until the top of the sixth inning, but it did end up with a fighting chance after a five-run ninth inning. 
For most of the game, it was LSU doing the hitting, crushing 12 hits in a 10-6 victory at Alex Box Stadium.
Bryce Collins made his first start on the mound, walking one and striking out two through 2⅔ innings. 
"I thought I got ahead decently," Collins said. "It keeps the pitch count down a little bit and allows me to kind of expand the zone a little bit more, which is kind of what we're looking for." 
Collins had forced two flyouts and walked one in the third inning, but after Jordan Thompson's throwing error to first allowed a runner on, Jacob Hasty replaced him on the mound and struck out three through his 1⅓ innings of work. He'd tally the win for the night on the mound. 
Ty Floyd came in after Hasty to have the second-longest outing with 2⅓ innings, striking out the most of the group (4).
Trey Shaffer made his seventh appearance of the season while Michael Fowler made his third. In all, LSU threw eight pitchers — including four who worked in the final inning. As a staff, LSU kept the Colonels at bay until then, concluding the game with six runs on eight hits, walking two and striking out 13. 
"We were just trying to give some guys opportunities, they're hard to come by this time of year," LSU coach Jay Johnson said. "There is no bad win in division one baseball." 
Defensively, the throw by Thompson in the third inning was one of two errors for the Tigers (29-14), and after the fourth inning, a variety of substitutions were made. Luke Leto replaced Tre' Morgan at first base. Morgan hyperextended his right knee at Mississippi State in early April, and has played with a knee brace since. He started at designated hitter last Tuesday for rest, but played first for the entire Georgia series.
"That was by design – I felt like we could win the game tonight with all the guys we had," Johnson said. "He actually came out of last week a lot better than previous weekends."
Collier Cranford replaced Jordan Thompson at shortstop in the seventh inning. Jack Merrifield went in at third base for Jacob Berry, Giovanni DiGiacomo went in at center field for Dylan Crews, and Drew Bianco replaced Cade Doughty at second base in the eighth.
Offensively, the Tigers started chipping away in the second inning with a pair of RBI singles by Josh Pearson and Berry for a 2-0 lead. That forced the Colonels (24-16) to pull their pitcher, left-hander Josh Mancuso, and replace him with right-hander Bradley Ely in the third.
Both Pearson, who was batting in the leadoff position, and Berry, batting third, returned in the third inning to crank a pair of home runs, which scored a combined four of the five runs in the inning. Josh Stevenson had kicked it off with an RBI single, and LSU led 7-0 going into the fourth inning.
Pearson added his second home run in the fifth for an 8-0 lead, then Tyler McManus made it 9-0 in the sixth with an RBI single.
"We're feeling really good," Pearson said. "We're approaching with our plan, doing our jobs whenever we need to do them, so I feel like every guys is really bought in right now."
The 10th run was scored by Merrifield on a wild pitch in the seventh. 
McManus has continued to shine at the plate, enough to move him into the designated hitter position on Sunday. He returned to start as catcher on Tuesday, continuing the theme as a consistent competitive at-bat. Behind the plate, McManus had a key block to close out the third inning with Hasty on the mound and two runners on.
"Him blocking that strike three – big time play right there," Johnson said. "Then he took four or five great at-bats tonight." 
McManus' double in the second inning set up Pearson's RBI single, and he crossed the plate again in the third after drawing a walk. So far this year, he is second on the team in triples, trailing Dylan Crews, and holds the highest conference slugging percentage (.698).
In all, the Colonels made eight pitching changes to try to prevent further damage, but the Tigers continued to reload.
The Colonels wanted payback, loading the bases in the top of the ninth for the first time while facing Fowler.
Nick Fields led off with a single and advanced on a wild pitch, then Basiel Williams followed with an RBI single to add the second run. Kyle Boudreaux reached on a fielding error by Merrifield, then advanced and scored on a pair of wild pitches for the third run. 
With no outs tallied, LSU put Will Hellmers in for Fowler, and he allowed an RBI double to make the score 10-4. Trent Vietmeier relieved him, forcing the first two outs of the inning, but one was a sac fly that made it 10-5. After Edgar Alvarez knocked an RBI single to make the score 10-6, Eric Reyzelman was sent to the mound to finish the job with a strikeout. 
"I think they're just staying with it and and when you stay with it, you can see the fruits of your labor – you don't get as I said distracted by failure adversity or discouragement," Johnson said. "You can't play here if you crack when those types of things come." 


This article is first published on Source link