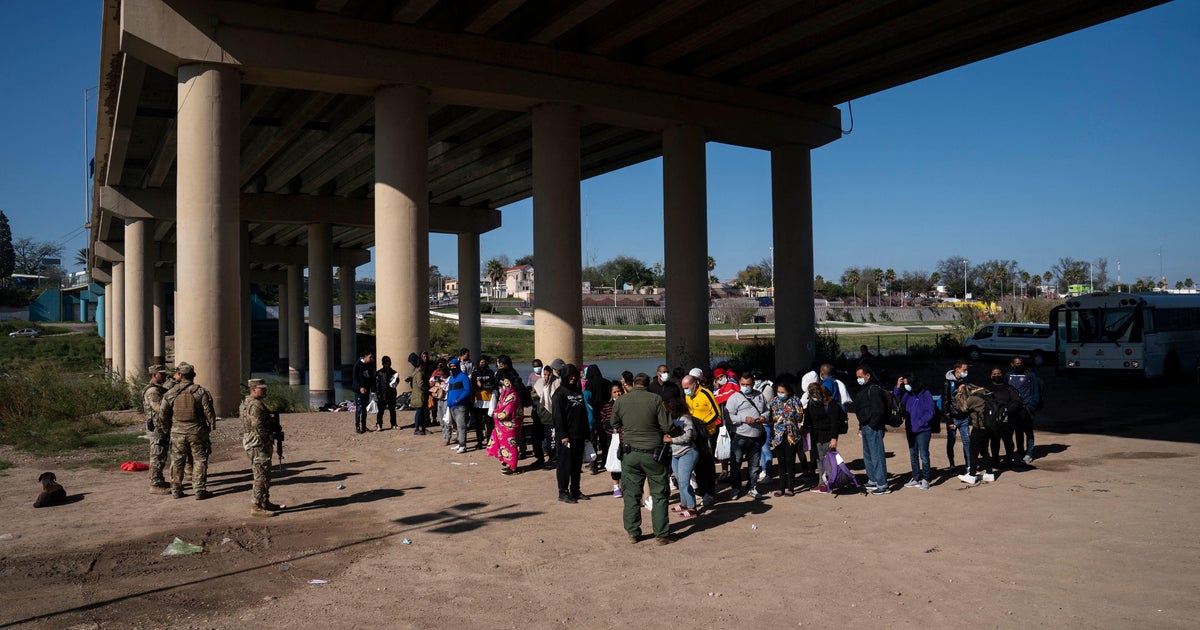 Washington — The number of migrants processed by U.S. authorities along the southern border soared to a monthly record in December before President Biden announced tougher enforcement measures to reduce illegal entry, government data released Friday showed.
Customs and Border Protection (CBP) officers on the US-Mexico border cleared migrants 251,487 times last month, a 7% increase from November, driven by record migrant arrivals from Cuba and Nicaragua, according to agency of statistics. The previous monthly record was set in May 2022, when CBP recorded more than 241,000 encounters with migrants along the southern border.
But the sharp increase in illegal border crossings in December happened before the Biden administration took action updated migration plan that pairs increased deportations of those entering the U.S. illegally with expanded opportunities for vulnerable asylum seekers and U.S.-sponsored migrants to enter the country legally.
Since the measures were announced in early January, the number of migrants detained along the Mexican border has dropped dramatically. The Border Patrol is now apprehending an average of about 4,000 migrants a day, down 40% from the December average, a senior Department of Homeland Security official told CBS News on Friday, speaking on condition of anonymity to share internal data.
Still, the record number of migrant apprehensions in December, a month historically marked by lower migration flows than warmer months, illustrates an unprecedented migration crisis along the southern border, where migrants are arriving in greater numbers and from more countries than ever before earlier.
The extraordinary migration event was caused primarily by record arrivals of migrants from countries outside of Mexico and Central America's Northern Triangle, the main sources of illegal migration to the US before the COVID-19 pandemic.
In December, US officials at the Mexican border recorded 42,637 encounters with Cubans and 35,389 encounters with Nicaraguans, an all-time high for both nationalities. By contrast, US border officials processed migrants from Guatemala, Honduras and El Salvador nearly 33,000 times last month.
US border officials were preparing in late December to end the pandemic rule, known as Title 42 which allowed them to quickly deport some migrants without giving them the opportunity to seek asylum. But the Supreme Court has put on hold a lower court's suspension of Section 42 while it considers a request by Republican-led states that want the Trump-era policy to continue.
As part of the strategy Mr. Biden unveiled in early January, the United States announced that Mexico had agreed to accept 30,000 returns a month of migrants from Cuba, Haiti, Nicaragua and Venezuela who had tried to cross illegally into the United States. In the past, Mexican officials typically only accepted the return of Section 42 migrants from Mexico, Guatemala, Honduras, and El Salvador.
The Biden administration has simultaneously committed to accepting up to 30,000 migrants from Cuba, Haiti, Nicaragua and Venezuela a month and giving them access to work permits if they have sponsors in the US willing to support their arrival. Officials also announced a process for vulnerable migrants in Mexico to make an appointment through a mobile app to request entry to the U.S. at ports of entry along the southern border.
U.S. border agents conducted 49,405 Section 42 removals in December, just 20% of all migrant encounters last month. That percentage, however, could change in January as Mexico has since accepted the return of additional migrant nationals deported by the US through Section 42.
Migrants who are not deported are treated under normal immigration law, which allows them to apply for asylum. Migrant adults and their families can be detained, deported under a process known as expedited removal, or released to the U.S. with a court notice or instructions to register with federal officials at their respective destinations. Unaccompanied children are usually transferred to government shelters.
Migrant encounters do not refer to individual migrants, as some attempt to cross the US border multiple times after being deported to Mexico. As of December, 14% of migrants processed along the southern border had previously been stopped by U.S. immigration officials in the previous 12 months, CBP data showed.
Moreover, not all migrants enter the US illegally between legal points of entry. In December, U.S. Border Patrol processed 23,025 asylum seekers who were determined to be vulnerable at ports of entry under Section 42 Humanitarian Exceptions, according to government data taken to federal court.
This article is first published on Source link