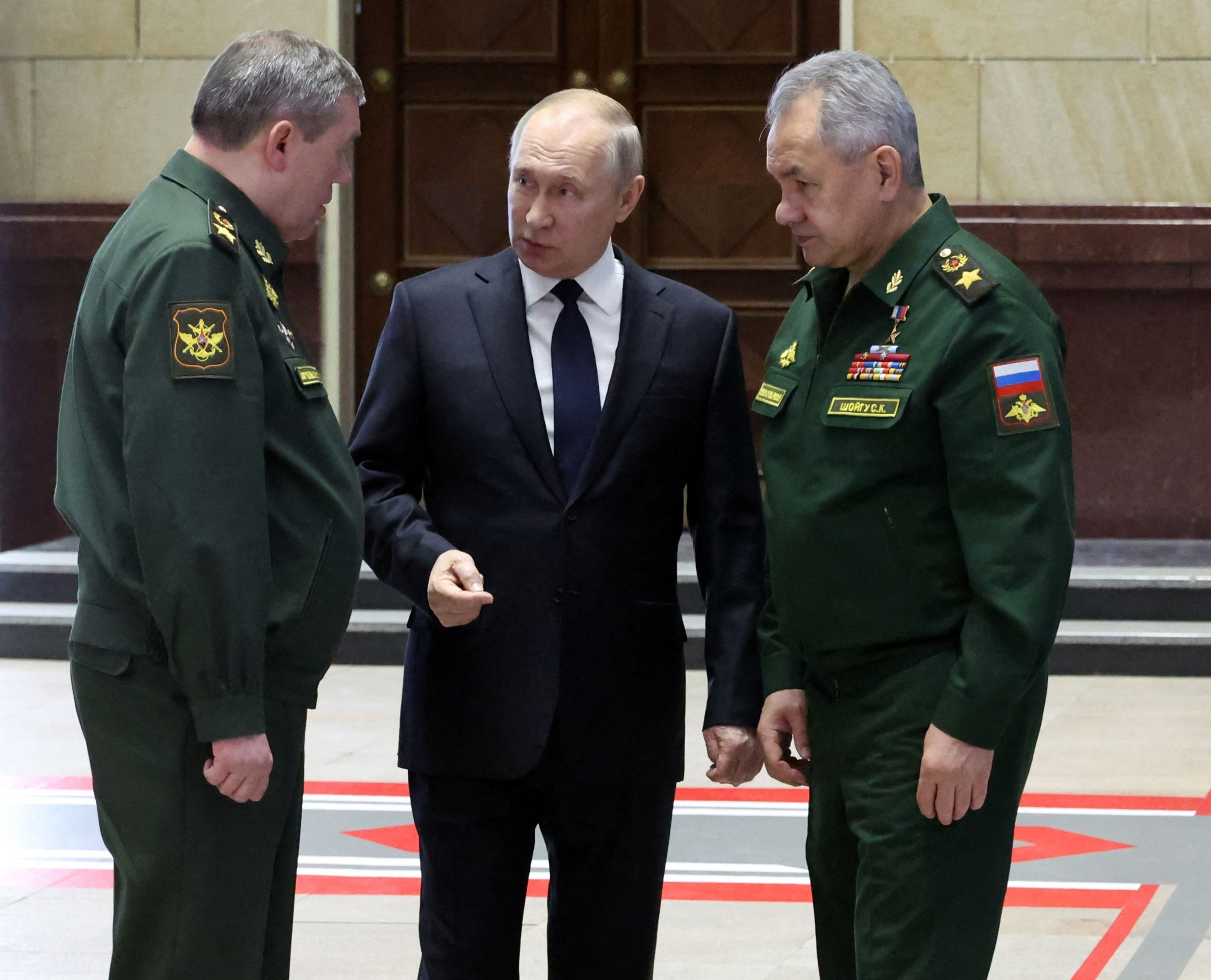 Vladimir Putin's military top brass is facing further ructions following the dismissal of one of his main commanders in Ukraine, British defense officials have said.
Colonel General Mikhail Teplinsky had been commander of the Russian Airborne Forces (VDV) since June 2022. He had won plaudits in Russia as a capable leader who had charged with Russia's relatively successful withdrawal in November from the west of the Dnieper River that bisects the Kherson oblast.
However, the U.K. Ministry of Defense said in its daily update on Tuesday that Teplinsky has likely been dismissed, reiterating what had been reported on Russian social-media sites on January 13.
Two days earlier, Putin put the Chief of the Russian General Staff Valery Gerasimov in charge of the Ukraine campaign, taking over from Sergey Surovikin, who had overseen the invasion only since October.
It was not certain whether Teplinsky is still in charge of the VDV amid a debate over whether the tasks it carried out in the war contributed to his dismissal. The VDV has often been used in ground-holding roles traditionally given to the mechanized infantry.
The latest shake-up "is likely another symptom of continued divisions within the senior hierarchy of Russia's operation," said the British defense officials, as Gerasimov "attempts to impose his personal authority on the campaign."
In a post on January 21, the Grey Zone Telegram channel, which has links to the private Russian mercenary group Wagner financed by Yevgeny Prigozhin, said that Teplinsky had been replaced by Lieutenant General Oleg Makarevich.
Moscow has not commented on the reported reshuffle, and Newsweek has contacted the Russia defense ministry for comment.
The post said that, while some paratroopers "may not agree" that Teplinsky is a good commander of the VDV, "choosing between him and Makarevich, they would prefer the former."
Some military bloggers have said Makarevich was the least-suitable candidate to command the VDV. They called for Putin to appoint commander of the 45th separate Special Forces brigade of the Airborne Troops of the Russian Armed Forces, Colonel Vadim Pankov, the Institute for the Study of War think tank said on January 20.
Samuel Ramani, associate fellow at the Royal United Services Institute (RUSI) in London, wrote that Teplinsky is the second senior Russian military figure in recent days to be dismissed.
"Teplinsky likely disagreed with Valery Gerasimov about the use of paratroopers in Russia's planned offensive operations in Ukraine," Ramani tweeted on Tuesday.
Last week, the former Deputy Supreme Allied Commander Europe (2011-2014) Sir Richard Shirreff told Newsweek that Gerasimov is likely to be "ruthless" and "brutal" in the campaign in Ukraine.
However, there is already discontent among Russian soldiers who have complained about Gerasimov's rules on personal presentation, which include that they must be clean-shaven.
British defense officials said on Monday that officials from the self-proclaimed Donetsk People's Republic described the measures as a "farce" that would "hamper the process of destroying the enemy."


This article is first published on Source link