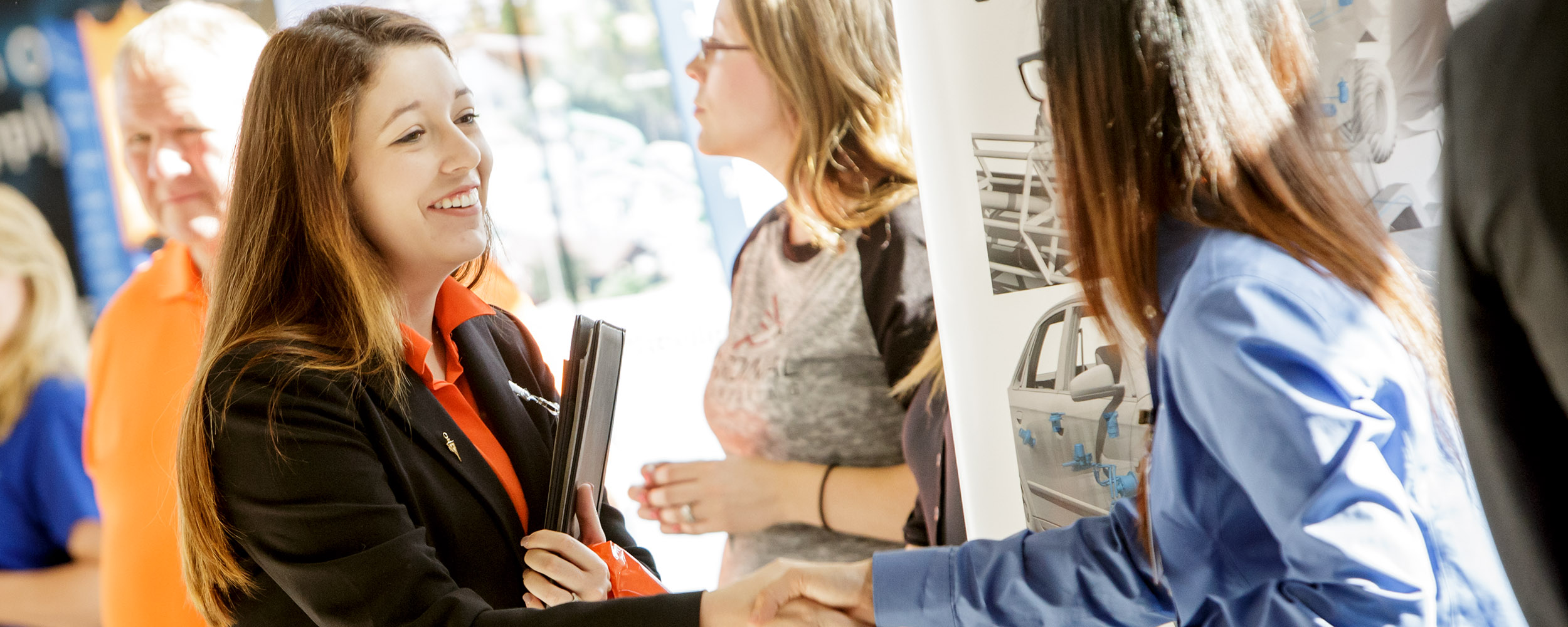 Thursday, October 20, 2022
Media Contact:
Kristi Wheeler | Manager, CEAT Marketing and Communications | 405-744-5831 | kristi.wheeler@okstate.edu
The 2022 CEAT Career Fair on Sept. 20 was the largest in history, hosting 283 companies
that came to speak with students about job prospects.
The previous record for most employers registered was 236 in 2019. The two following
years were affected by COVID-19, which made 2022 the first year to have the expected
number of employers in attendance.  
CEAT Student Council is in charge of planning the career fair each year. Student Council
Career Fair Coordinators Adrian Miller and Will Ranson were responsible for planning
the several moving parts that took place in the annual event. 
"I had attended previous fairs and helped out as a member of the CEAT Student Council,
but coordinating the whole thing was a different beast," Ranson said. "There are so
many moving parts, countless recruiters to communicate with, and things always go
wrong. The whole experience tested me in different ways, but I was really happy with
the end result."
The increase in turnout resulted in Gallagher-Iba Arena selling out and the career
fair expanding to the Advanced Technology Research Center, which also quickly sold
out.
"I hope that students realize how excited employers are for engineering interns and
graduates," Miller said. "We had about 280 companies who wanted to speak to students
about how necessary they are in the industry. I hope students got to practice speaking
with employers as that skill will be necessary for interviews and life after college.
As for employers, I hope they all spoke to and recruited some amazing OSU students
for whatever positions they had open."
The organization received positive feedback from the event and is already taking note
on how to continue improving future career fairs.
"I ultimately hope the students who attended get jobs," Ranson said. "The purpose
of this event has always been getting students employed for the summer and enabling
our graduating seniors to get full-time jobs. We also hope the employers enjoyed their
time this year and that they will want to attend next year. We believe our fair stands
out to employers because it's one of the largest in the nation, and the excellent
engineering programs here at OSU provide some of the best hires for these companies."
Miller encourages anyone interested in planning the career fair to become involved
in CEAT Student Council and apply for the position next spring.
"I do want to encourage any CEAT students who are curious about this position to apply
next spring," Miller said. "This position is a great learning experience. It helped
me network with employers, while also teaching me how to plan for large-scale projects.
This position was the first thing employers asked about in my interviews."
Story By:
Bailey Sisk | basisk@okstate.edu
This article is first published on Source link