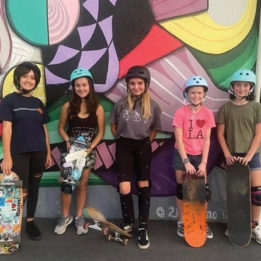 Creating memorable experiences with Project Lifelong
May 5, 2022
By Farrah Avender, 10th grade
(Note: Project Lifelong is a Sacramento nonprofit organization that provides local youth with unique and affordable outdoor adventures, teen mentorship, volunteer and work experience, and experiential growth from grade 5-12. Participants build friendships while fostering community connection. Learn more at www.projectlifelong.org.)
Project Lifelong is a safe place where I am welcomed and encouraged by my peers and instructors. It's a place where I can be safe, learn, build new relationships and have fun. I can't have these experiences at skateparks because of the older people, drugs and alcohol that I don't want to be around.
I remember as a middle schooler my first session with Project Lifelong at the end of the year party. Professional skaters like Ryan Sheckler came out and I got to talk to them. I even got a picture with them and my board signed by them. I got to represent my program in front of pro skaters and got some sweet swag.
As a high schooler, I'm learning how to build ramps, set up lights, safely set up heavy ramps and practice teaching middle schoolers how to skate. After my first year with Project Lifelong, my younger sister was able to join as a middle schooler with a friend. I found that they started following me around because I was the only one they knew at the skate nights. It was a whole new experience skating in a group of girls. I had been with the program since 2019 and I am excited to be a high school mentor this year.
I was the only girl at my site when I first started and I was very shy and intimidated by the boys. Skateboarding has been a male-dominated sport for so long and now the world is finally recognizing more skateboarding girls. I gradually became more comfortable skating around boys when encouraged by instructors. Now half of the middle school program are girls and I'm so excited to be a mentor there for them; to be a girl that they can look up to for help or advice.
I recently went on my first snowboarding trip with Project Lifelong.
I was given a round trip ride, gear, aboard, my own lessons, and lunch to use for the day. I was excited because I had never had the opportunity to go and I was also nervous. I felt more confident when I noticed that I was learning along with more of my peers. On this trip, I learned how valuable communication is with my team. Being able to stick together, learn with each other and give advice to one another. I'm so excited to go on more trips with my team!
By joining Project Lifelong anyone can learn something new while working at their own pace. It's a personalized sport, but you are still learning with other people like a team. You get to meet new people and build new relationships. The high school program gets the travel and participates in other alternative sports. These experiences contributing to the vision of this project are also lifelong memories I will never forget.


This article is first published on Source link