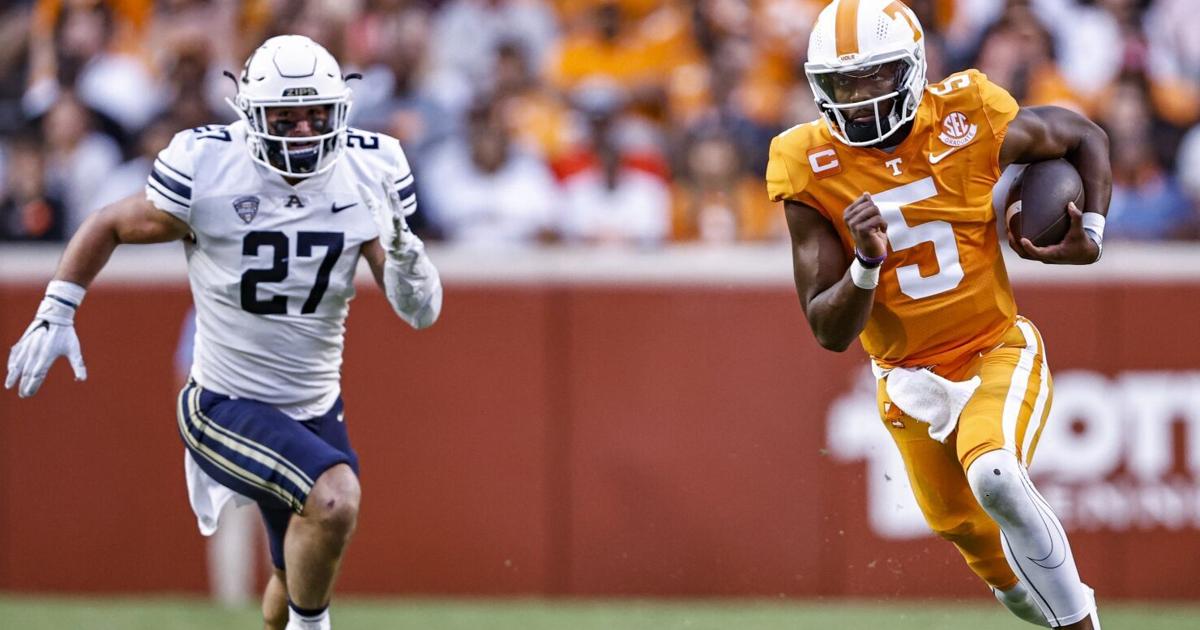 It felt like Tennessee was on the precipice of a breakout season last year, but couldn't quite close games.
The Vols dropped two one-score games to Pittsburgh and Ole Miss and even went toe-to-toe with Alabama before relinquishing 28 points in the fourth quarter.
But this year, the Vols have so far reversed their luck with a 4-0 start, including two victories over ranked opponents they fell to last year: Pittsburgh and Florida.
"For us, you've got to understand that if you're up on the scoreboard, it doesn't matter – we talked a lot about playing for 60 minutes," Heupel said during his Monday media conference. "You're only as good as your next one in this game and you can continue looking at college scores, your preparation, your competitive spirit all week but then also on game day. There's no way in this game you can just flip a switch on Saturday."
In his second season as head coach, Josh Heupel has already led the Vols to their first AP Top-10 appearance since 2007 and he's done it with an electric offense behind an experienced quarterback, Hendon Hooker, with something to prove in his sixth year.
Hooker has had a tumultuous collegiate career – starting in eight games his sophomore year, then contracting Covid-19 at the beginning of the 2020 season. He was told he might need heart surgery after standard heart scans after recovering from the virus came back questionable, but was cleared just in time for the season, earning the starting job for eight of the team's 11 games.
But Hooker saw an opportunity for a change through the transfer portal after Tech's head coach, Justin Fuente, was fired, but Jeremy Pruitt, Tennessee's head coach who recruited him, would also be fired upon his arrival.
He'd work his way into the starting position by week 3 of last year, when Joe Milton was sidelined with an injury.
So far, Hooker has proven to be one of the most accurate quarterbacks in the SEC — ranking No. 9 in SEC history for most passes thrown without an interception (212), which is also a program record record.
He anchors a nation-leading offense averaging 365.8 yards passing per game, and is coming off his best career performance against Florida, throwing for 349 yards on 78.6% completion and running for 112.
"Tempo will be a challenge, there's no doubt the matchups will be what we'll look at each and every play," LSU coach Brian Kelly said.
Now, the Vols are coming off a BYE week, but Hooker could be missing one of his main targets in wide receiver Cedric Tillman, who underwent surgery on his high-ankle sprain in order to speed up the healing. Heupel said Tillman was moving around on Monday, but would make a decision on Friday.
The Vols' secondary ranks close to last in the nation in giving up passing yards (No. 128/131), but the Vols are No. 21 in the nation at stopping the run, allowing 97.8 yards rushing per game. 
"We know it's a really good defense," Kelly said. "Their linebackers are active. From a talent standpoint and an execution standpoint, they do a great job."


This article is first published on Source link