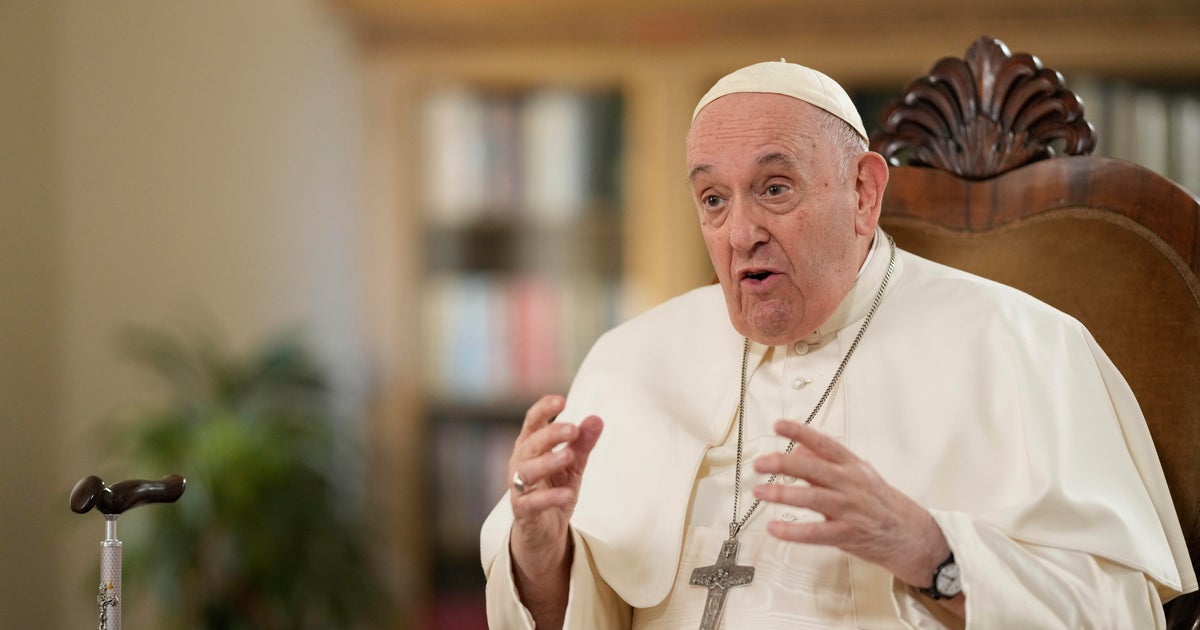 Rome – Pope Francis called the laws that criminalize homosexuality fundamentally "unjust", making it clear that in the mind of the head of the Catholic Church, "being a homosexual is not a crime."
The pontiff touched on discrimination against the LGBTQ community, his health and future plans, and the death of Pope Emeritus Benedict XVI, among other things. interview with the Associated Press agency published on Wednesday.
"We are all children of God, and God loves us as we are," he told AP reporter Nicole Winfield at his Vatican residence.
However, Francis reiterated the Church's teaching that engaging in homosexual relationships is a sin.
"This is a sin," said Francis and added: "Let's first make a distinction between a sin and a crime."
Significantly, the Pope clarified that discriminating against others is also a sin, saying: "A lack of mercy towards one another is also a sin, so what of that?"
The teaching of the Catholic Church states that homosexuals should be welcomed into the church and treated with respect and benevolence, despite the fact that homosexual relationships are considered "internal disorders".
Francis did not change this teaching, and in 2021 the Vatican's doctrinal office ruled that the church could not bless same-sex unions because "God cannot bless sin."
However, Pope Francis has repeatedly championed homosexual rights and advocated the inclusion of LGBTQ people in Catholic life.
Francis said the church "must" work to abolish unjust laws around the world.
There are same-sex sexual acts is considered a crime in approximately 67 countries, mainly in Africa and the Middle East, according to the Human Dignity Trust. In 11 of these countries, the penalty may include the death penalty.
More than a dozen US states still have anti-Sademia laws, despite the Supreme Court declaring them unconstitutional in 2003.
The pope said some bishops from countries that criminalize homosexuality support the laws because they are part of the local culture, and urged those bishops to undergo a process of "conversion" to welcome LGBT people in their ministry "with tenderness."
The pope also criticized a movement in Germany called the "Synodal Way," in which bishops and laity are considering controversial church reforms such as allowing priests to marry, as well as allowing women deacons and church blessings for same-sex couples.
While Francis did not specifically address the issues under discussion, he discredited the process as frivolous and unhelpful, and said it was run by an "elite" who did not represent "the whole people of God."
Earlier this week, the Vatican rejected a proposal by German bishops to create a new governing body for the German church that would be made up of both bishops and lay people.
Francis, 86, also raised questions about his health, revealing that diverticulitis, which required surgery in 2021, has returned. He said a minor knee fracture that left him unable to travel and use a wheelchair healed without surgery, with laser and magnetic therapy included.
"I'm already walking, I'm helping with the stroller, but I'm walking," he said. "My health is good, normal for my age."
Since the death of retired Pope Benedict XII earlier this year, rumors intensified that Francis might decide to retire. But he told the AP that he plans to continue as long as he can.
He reiterated that in the event of his retirement, he would like to live in a residence for retired priests in Rome and be known as the Bishop of Rome Emeritus.
"Benedict's experience opened the door for new Popes who are retiring to integrate themselves (into society) in a freer way," he said.
Francis said that with Benedict's death, he has lost a father figure and a confidant.
"He was a security for me. If in doubt, I would ask for a car and go to the monastery" where Benedict lived to get advice. "I have lost a good comrade."
This article is first published on Source link