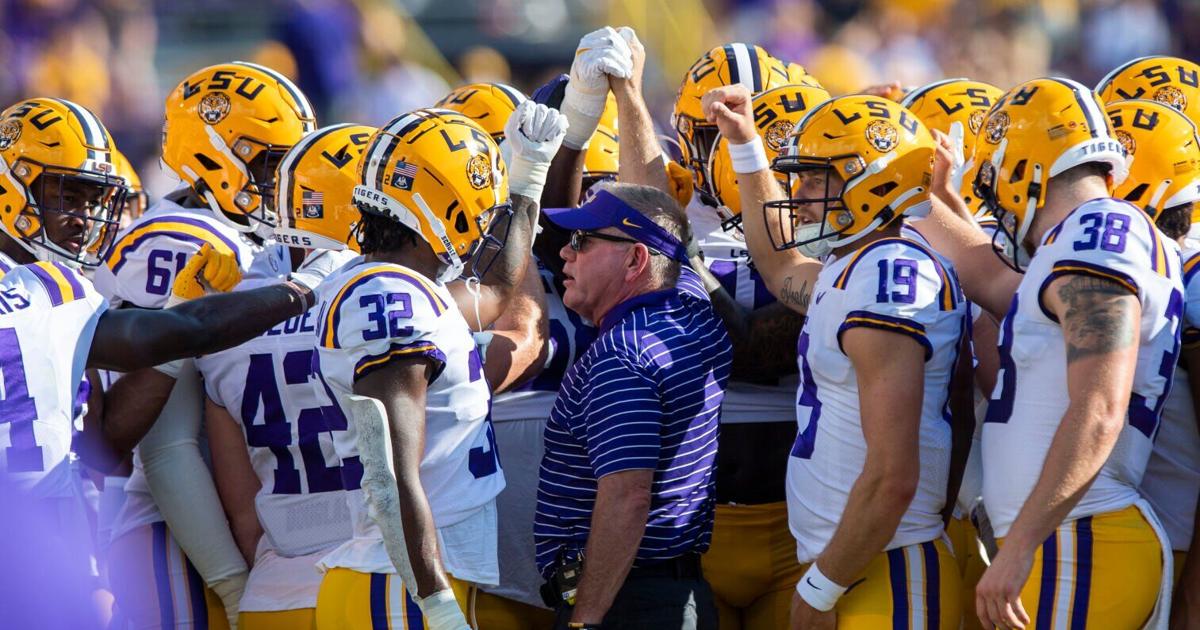 LSU hosts New Mexico on Saturday night in Tiger Stadium, which will really be aptly named Death Valley with a kickoff temperature somewhere in the low 90s.
Speaking of lows, this shapes up to be the low point of LSU's 2022 season. The Tigers are a huge 31½-point favorite, though not as huge as they were over Southern. Despite coach Brian Kelly's insistence that the Lobos play tenacious defense, this should be a walkover for the Tigers.
Games like these are to be endured more than enjoyed, in a general sense. It becomes a contest of style points for LSU, really, in terms of how much polishing the Tigers hope to do leading into the meat of their schedule next week at Auburn. They want to get out without any serious injuries.
Still, into each heavy favorite's life a 2017 Troy occasionally falls. Or UAB, which pinned a deep, dark upset on Nick Saban's first LSU team in 2000. Or, for you more veteran LSU followers out there, Miami of Ohio in 1986.
Kelly had a pretty stout track record in these types of games at Notre Dame. He was 27-5 there against non-Power Five opponents, and that included a loss to a Cincinnati team that reached last season's College Football Playoff. With his team building some momentum with two straight wins over Southern and Mississippi State, Kelly knows he must end September by avoiding a staggering upset.
"Focus on process over outcomes," he said Thursday. "You get what you deserve in this business. If you prepare the right way and put in the right work, there's a payout at the end.
"You still have to tackle and do those things, but if you prepare right and meet that standard, you put yourself in position to have success."
***
A lot of LSU fans are no doubt hoping to see fewer games like New Mexico on the schedule in the future if the Southeastern Conference, as expected, expands to a nine-game slate when Texas and Oklahoma join the league.
With only three slots for non-conference games, there will definitely be fewer New Mexicos on the slate. But they probably won't disappear entirely. LSU has put an emphasis on playing at least one Power Five opponent each year — this season and next it's Florida State, with USC and UCLA scheduled for 2024.
LSU's three-game non-conference schedule for 2025 is published and gives a good preview of what the Tigers' future non-SEC slate will look like. The Tigers are scheduled to open their first home-and-home series with Clemson in 2025, along with home games against Louisiana Tech and Western Kentucky. So a mix of Power Five foes, an in-state team and someone such as New Mexico could be what the docket looks like going forward.
In other words, rent-a-wins will endure.
***
LSU football got one year of NCAA probation over recruiting violations involving since-fired offensive line coach James Cregg and an unnamed recruiting staff member. Their transgressions were labeled Level II violations (Level I is the worst and III is the slightest), so probation, some minor recruiting restrictions and a small fine are all LSU had to endure.
This time.
Of course, this was not the major recruiting violations case pending against LSU. That's the case involving former men's basketball coach Will Wade; money being funneled to a football player's father from convicted embezzler John Paul Funes; and former Tiger Odell Beckham Jr. brazenly passing out cash to players after the 2020 CFP title game.
In the Cregg case, LSU got off fairly light. The school may even benefit in terms of a judge's ruling that LSU owes Cregg nearly $500,000 because he was fired improperly. LSU intends to appeal, and now its lawyers can point to the NCAA's ruling and argue Cregg was indeed fired for cause. According to the NCAA, Cregg and the recruiting staff member even admitted to breaking rules.
It is possible the Cregg case could indicate to the NCAA a pattern of misbehavior on LSU's part. The NCAA already charged the school with lack of institutional control in the basketball/football allegations, four words no athletic director ever wants to hear. Of course, LSU fired Wade in March and has done its best to distance itself from Funes' and Beckham's misdeeds.
There is a growing confidence at LSU that the school, particularly men's basketball, won't get hit too severely because of its cooperation. Clearly, the NCAA was pressuring LSU to fire Wade by connecting the basketball and football cases, and it did so.
There's even a growing chance that Matt McMahon's first LSU team will be eligible for postseason play, as the big case could drag into late this year or early 2023 before a resolution.


This article is first published on Source link