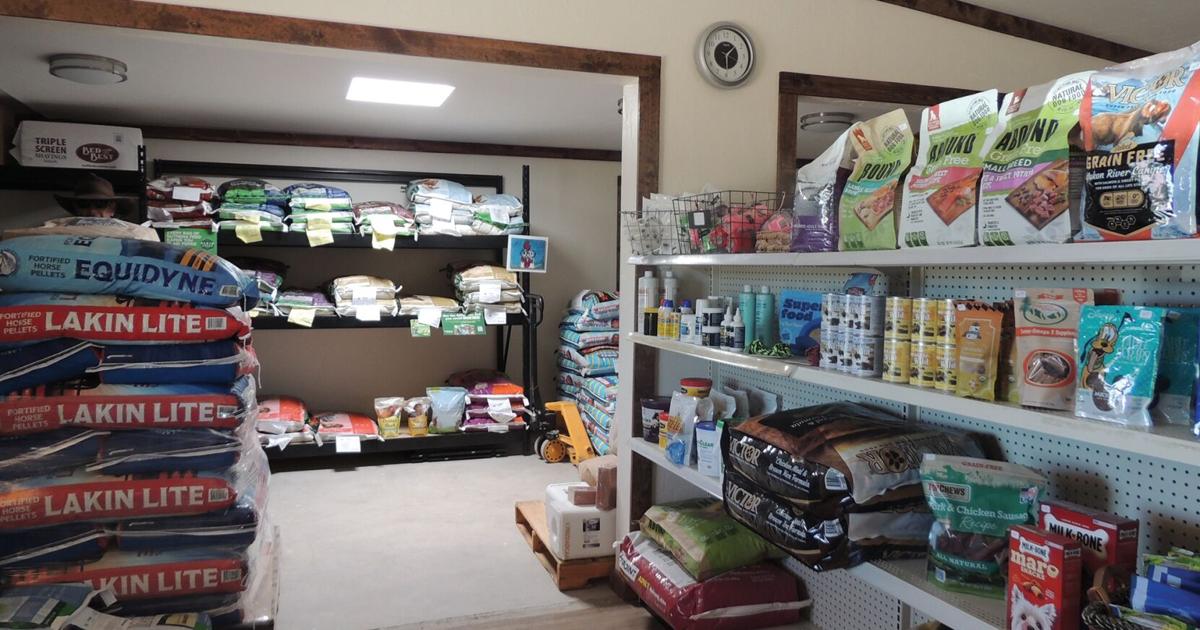 The Valley Feed & Supply is more than an outlet for pet and animal needs. It's a community gathering place.
With its 1800s western general store feel, customers come not only to pick up their feed, but to socialize with ranchers, farmers and other residents living in Picture Rocks. They gather at the store to share their stories.
"We get a load of hay in and then it's gone," said Sally Burke, who purchased the store with her husband, John, in December 2021. She has 11 horses.
"Our main farmer grows amazing alfalfa. We have another farmer coming in. We can get hay somewhere else, but it's not quality hay. We only sell quality hay. I will not sell any hay that I wouldn't feed to my own horses."
When Burke purchased the store, it was a rental in poor condition. The building was so dilapidated, it almost needed to be demolished. Rats were living there so, Burke said, they sealed the store and installed new drywall, walls, concrete and solid doors.
"So, the rats basically lived in the building, and they would come up through the floor," Burke said. "We had to jackhammer out that concrete floor. We had years of mice that lived in the store."
The challenge was keeping the historical integrity of the building, which was important to the Burkes.
"It's (the feed store) such a need in the community," Burke said. "I saw the potential. This is my passion; a full-service feed store. Before they were predominantly selling hay, it was a hay store. Now, this is a full-blown, full-service feed store. If we don't have it, we will get it."
CJ Herrell, the "main lady" of the store, Burke calls her, agreed. "I have been in and out of the store since 2010. And each year it seemed to get a little more depressing."
Danny Coomer started the feed store in the mid-1980s. He and his family lived in the home behind the store. They had two ponies and bought hay to feed the ponies, then people started showing up and asking if he could sell them hay.
Coomer brought hay out on the top of the hood of his car, Burke recalled. Customers then asked for dog food and other supplies.
"Hence, he built what is today, the store. I believe in 1987 it was permitted by Pima County to operate as a feed store," Burke said. "After the Coomers moved out of Picture Rocks, the store was rented to various people who ran it as a feed store, all the way up until the day I purchased the property."
Burke said the goal is to accommodate everyone so "they don't have to drive into Tucson." Burke said the radius of Picture Rocks is 71 miles, with 9,300 residents. There are small backyard farmers raising animals and livestock.
The store offers discounts for 4-H and FFA and for the military, active and retired.
Community gathering place
Burke said the store has been known as "the feed store on Orange Grove Road." Now, Burke runs it like a general store where customers gather and talk. She compared it to bookshops of the past.
"I am kind of like the little bookstore, then Barnes & Noble took over," she said. "I think more of these small businesses are starting to come back. I would rather go into the little hardware store down here than a Home Depot.
"That's what the American people are craving and missing that small place to go to and the attention they receive," Burke said.
"Like CJ here, people walk in the door and she has a big smile on her face that is welcoming. That's what we are trying to create here — that little, small-town country store where you get treated like a human being."
Herrell added, "People come in to talk and it is great, you learn different things about them."
Louie Perales has been working at the store for four months but has been in Arizona for 30 years. He said he noticed the store is calm and comforting.
"I really didn't know anyone here," he said of living in Picture Rocks. "The tension that was here in the store has been released. As the store started to fill up, it became really neighborly, really quick. It made me feel really comfortable being here."
Burke said she owes her work ethic to her father, Ned Robinson, who died in 2010. He was an honored World War II veteran, who was wounded on Iwo Jima. Eighteen days later, he received a Purple Heart from then-President Harry Truman. He came to Tucson and later became the director of the Pima Air and Space Museum.
"He built the museum," Burke described. "When he went out there, all it had was an old trailer and 30 airplanes. My dad built all those hangars we see today. He built the air museum to what it is today."
Burke said she is a chip off the old block.
"I can take something and turn it into something," she explained. "I grew up living with someone who was always thinking outside the box."
For her feed store, Burke kept in mind what her dad taught her.
"I learned your limitations can't hold you back," she said. "Growing up with a disabled parent, and the things he accomplished, gave me the strength to do what I do in my adult life."
She plans to expand the shop, but slowly, to keep that mom-and-pop atmosphere.
"It is what it is, and it just goes to show you, you can take an old building and turn it into something beautiful if you have the will," she said.
If you go
Valley Feed & Supply
11910 W. Orange Grove Road, Tucson
520-682-8474
10 a.m. to 5:30 p.m. Monday to Thursday
9 a.m. to 6 p.m. Friday
8 a.m. to 5 p.m. Saturday
10 a.m. to 3 p.m. Sunday
This article is first published on Source link