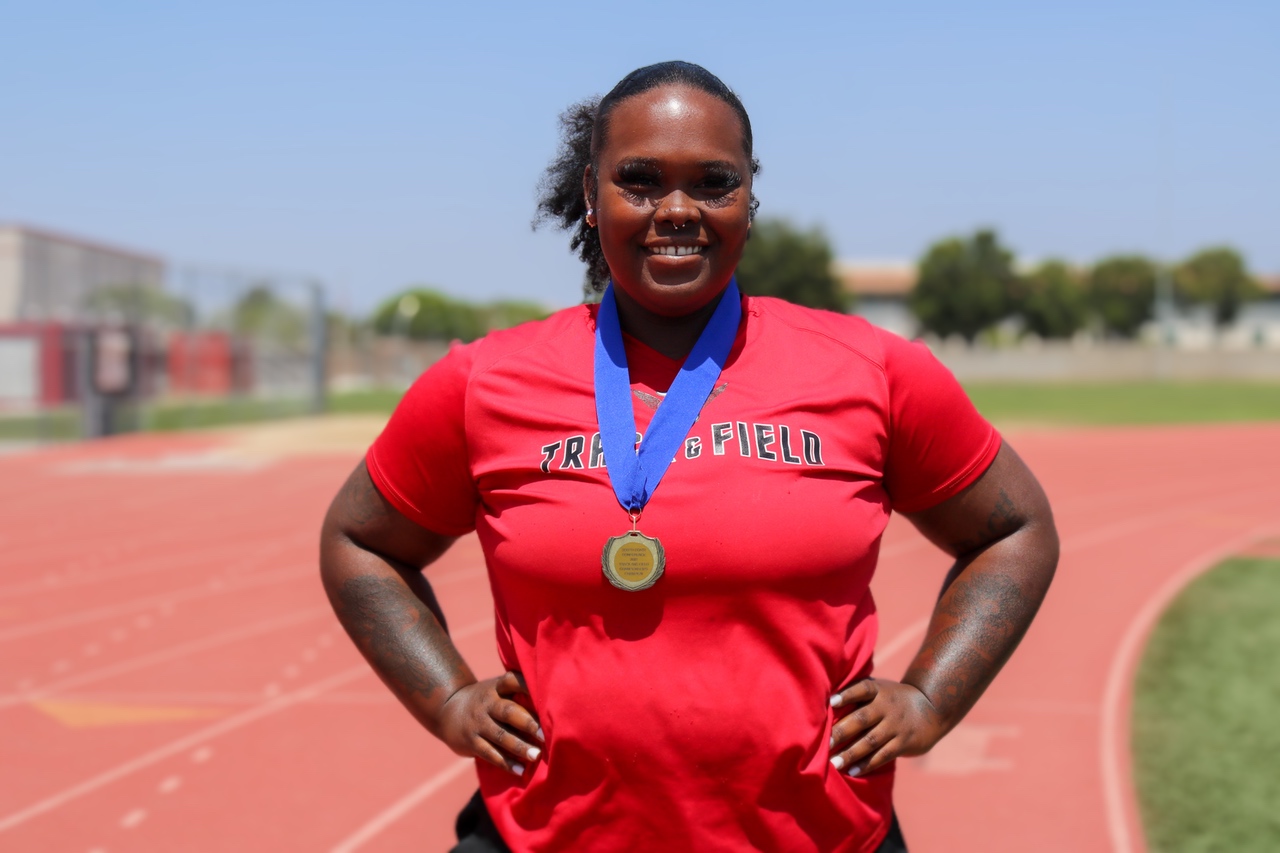 Freshman thrower Casey Davis took first place in the shot put at the South Coast Conference Championship Finals this past weekend at East Los Angeles College, with a throw of 40 feet 4.25 inches.
Davis is from Lakewood California and has been competing in field events since middle school as a leisure sport, but once she reached high school it became more serious.
During high school, she started making it to CIF and different invitational meets, doing proper workouts, and throwing farther, which carried over to her career here at LBCC.
"I feel really good about (my throw), but I know that I can do a lot better," Davis said. "There were little hiccups along the way, certain throws that I didn't like, but I'm just trying to get better as the day goes on."
Besides competing in track and field, Davis also played basketball from middle school until her first year at LBCC.
"I used to play basketball all throughout middle school, high school, and my first year at Long Beach City," Davis said. "That's when Covid happened and that's when I had to stop and just mainly focus on shot put."
Davis is a determined, focused, and coachable athlete. Head coach Marcus Carol was proud to speak on her performance at the SCC Finals.
"I'm proud to see her development and also see her performances be consistent throughout the year and continue to improve throughout the year," Carol said.
Davis' conference was extremely competitive, and a lot of the competitors she saw at the SCC Finals will also be at the SoCal Championships.
"It was very key and important to see how (she) responds to pressure, and takes care of business in such a competitive environment, because (she's) going to need to do that two more times throughout this year," Carol said.
Davis says she is most proud of her determination because it has helped her get to where she is today.
"If I want something to get done I'll definitely get it done, or if I have a goal in mind, which is Conference Champion, then I'll definitely make that happen," said Davis.
The SoCal Finals will take place on Friday, May 13 at Moorpark College.
This article is first published on Source link